MASSAGE THERAPY
New Client Special:
$65 for a Custom Swedish 60-minute session

Advanced trained therapists. General and specialized techniques!

We are big believers in soft tissue therapy for healing and rejuvenation. In our center, massage clients can benefit from co-management between experienced licensed therapists and the doctors or they can opt to experience a variety of massages alone!
Massage Benefits:
Improves blood circulation, relieves congestion throughout the body.
Stimulates lymph circulation, eliminates toxic debris and waste-a wonderful detox!
Relaxes muscle spasm and relieves tension.
Improves tone and elasticity of muscle and skin.
Relieves stiff joints and aching feet.
Reduces stress levels, allowing mind and body relaxation.
Improves sleeping patterns.
Increases excretion of fluids and waste products of inorganic phosphorus and salt.
Unlocks tight connective tissues, improves circulation and nutrition by breaking down and preventing the formation of adhesions, and reduces the danger of fibrosis.
Prices and Menu:
60 min sessions:
Swedish/Basic Therapeutic Treatment $70
Add-Ons:
Prenatal +$10

CBD Massage Therapy +$15
Deep Tissue Therapy +$15
Lymphatic Drainage +$15
Spa Hot Rock Massage +$15
30 min sessions:
Swedish/Basic Therapeutic Treatment $45
Add-on: Deep Tissue +$5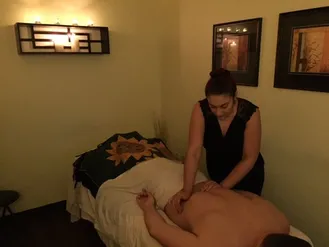 Ready to get started? Choose an appointment time that works for you!