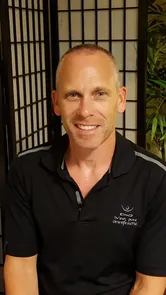 Dr. Philip J. Zair, D.C.
Doctor of Chiropractic and Acupuncturist
Dr. Phil (an avid Mets and NY Giants fan) is originally from Long Island, NY and graduated from State University of New York, Albany with a Bachelor's Degree. From there he ventured to California to pursue his lifelong career at the Los Angeles College of Chiropractic (since renamed Southern California University of Health Sciences), graduating cum laude in 1997. Years into his practice he made the commitment to advance his education and went back to school to obtain a Master's Degree in Acupuncture from Phoenix Institute of Herbal Medicine and Acupuncture . Dr. Phil is certified to practice Acupuncture and passionately integrates the Eastern philosophy using tongue and pulse reading as well as nutrition and herbalism. His gentle demeanor combined with his fun sense of humor is most admired by his patients who always leave the office smiling! His many interests include sports, reading, music, traveling and family time.
"Truthfully, I had no idea what chiropractic was, even in college. A friend of mine was applying to chiropractic school. All I knew was that chiropractors "crack" backs but why were people seeking their care? Out of curiosity I went to visit a local chiropractor, and though I had no complaints at the time, I did notice that I was more focused and alert (my neck was a lot looser as well). I had learned my first valuable lesson about chiropractic that day…chiropractic is more than treating back pain, it's something much bigger. This started my everlasting journey into chiropractic and other alternative therapies."
"Thanks for visiting our site and we hope to be able to meet you one day soon over a smile, a chuckle and a little inspiration towards better health!